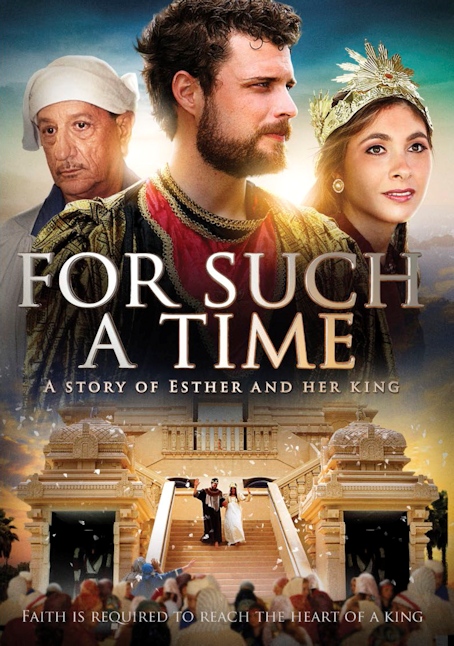 In this fast-paced, visually motivated world we live in, it seems more people are turning on their television sets or surfing the Internet before they would consider tuning to God. For this reason and "For Such a Time" as this, Tender Shoot Films feels called to produce wholesome, Godly and Biblical "Movies with a Message."

The film "For Such a Time – A Story of a Queen and Her King" is based on the compelling Biblical story of Queen Esther, the young Jewish woman who God raised up to become the great Queen of Persia, the one who would save her people from annihilation. Approximately eighty percent of the screenplay and scene dialogue was taken directly out of the Book of Esther, as was the entirety of the narration. For the remainder of the film, the production company took creative liberties to interweave what was perceived to be a love story with Esther's king, as well as a love story with her King of Kings, the God of all creation, hence the subtitle "A Story of a Queen and her King." It is the hope and prayer of Tender Shoot Films that this powerful, riveting, and thought-provoking depiction of Queen Esther will bring many to a better understanding of Esther's life, and open their eyes to the truth of the Messiah of Israel, Yeshua, Jesus of Nazareth.

Tender Shoot Films believes the ancient prayers and overall authentic Hebraic flavor of this film will draw in both Jews, Christians and movie-goers alike for an enjoyable, dramatic, romantic, and adventurous Biblical journey.

Based on many Scriptural and Biblical references in the film, Tender Shoot Films endeavors to paint an accurate picture of the true Jewish Queen Esther, perhaps more so than other films on this story in the past. The Esther depicted is one with a passion for prayer, God's Word and love for her people and a courage that is truly divine!

Title: For Such A Time

Starring: Alyse Nicole Merritt, Jeffrey Scallon,
Matthew David, Dr. D. Michael Michael

Directed by Alyse Nicole Merritt
Produced by Tender Shoot Films
Screenplay by Alyse Nicole Merritt
Cinematography by Rick Shorrock and John Merritt
Editing by Alyse Nicole Merritt
Production Company: Tender Shoot Films
Running Time: 75 minutes
Release Date: July 1, 2010 (English), August 1, 2010 (Spanish)
Country: USA
Format: DVD (NTSC)
Languages: English and Spanish
Closed Captions: English & Spanish
Rating: Family Friendly
Public Performance Rights: Tender Shoot Films


For Such A Time is available for purchase on DVD in our online store.
In addition, we offer bulk order discount packages.