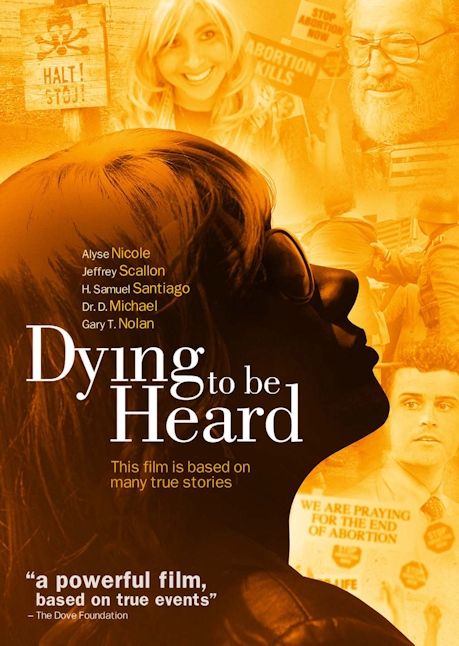 Dying To Be Heard is based upon many true stories and contains a powerful message depicting the intrinsic value of every human life.

Rachel, the central character, is a high-powered executive striving to climb the corporate ladder, however suddenly finds herself thrown into an emotional crisis when she discovers she is pregnant. Having to choose between her blossoming career, versus a life of unexpected sacrifice, her world seems to be closing in around her, as her spiritual perspectives start to become challenged as well.

This riveting and heart-wrenching film underscores the reality of God's compassion for every human life, from the disabled, to the autistic, to those who perished in the Holocaust, and especially the unborn, and motivates us all to be a voice for Love, Life for all those "dying to be heard!"

Title: Dying To Be Heard

Starring: Alyse Nicole Merritt, Jeffrey Scallon, H. Samuel Santiago,
Dr. D. Michael Michael, Gary T. Nolan

Directed by Alyse Nicole Merritt
Screenplay by Alyse Nicole Merritt
Produced by Tender Shoot Films
Cinematography by John Merritt and Rick Shorrock
Editing by Alyse Nicole Merritt
Production Company: Tender Shoot Films
Running Time: 90 minutes
Release Date: July 4, 2013
Country: USA
Format: DVD (NTSC)
Languages: English
Closed Captions: English
Rating: Family Friendly
Public Performance Rights: Tender Shoot Films


Dying To Be Heard is available for purchase on DVD in our online shop.
In addition, we offer bulk order discount packages.